Why are waffles so filling? Because they're wa-fulls, not waff-empties. I LOVE making meal time fun for my family. Everyone loves waffles on a stick! Add sprinkles, fruit toppings, chocolate chips, or plain. Dress up your waffles to fit you. For this post, I want to do something different in honor of my Birthday month! Who doesn't love waffles on a stick? This is not a new concept, you can find waffles on a stick anywhere in the world, which can be inspirational to your creation. Here's the good news, waffles are not only for breakfast. Enjoy tasty waffles for breakfast, brunch, lunch, or even a quick snack. Waffles on a stick are also perfect for parties. Especially for kids, just lay out the toppings and enjoy. Below you will find Four different waffle recipes. Dress them up or keep them simple, no matter what toppings you choose. 
I store my premade waffles in the freezer. If your making your waffles on a stick this makes reheating in the toaster easier, and safer. Heat for 1min in toaster with the stick facing up.
Medium popsicle sticks
Mini Waffle Maker
Cooking Spray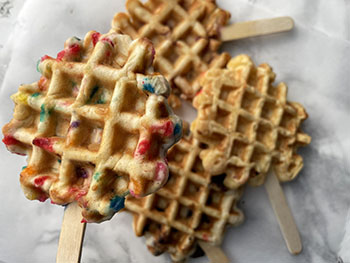 2 cups all-purpose flour
1 teaspoon of vanilla extract
4 tablespoons raw sugar
1/2 teaspoon salt
2 eggs
1 1/2 cups milk
6 tablespoons unsalted butter melted
4 teaspoons baking powder
Suggested Batter Fillings
Colorful Sprinkles
Dark Chocolate Chips
Strawberries
Carrot shavings
Step by Step Instructions
1. Prep all batter ingredients before heating the mini waffle iron. If adding carrots the shredding side of your handheld grater works great to shred your carrots into small, fine pieces that add a bit of color and texture. If using strawberries, chop in small pieces.
2. First mix dry ingredients into a large bowl.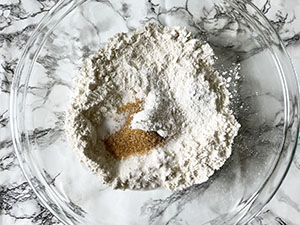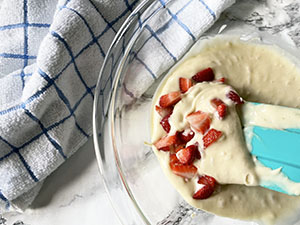 3. Using a separate bowl, add eggs, milk, cooled melted butter & vanilla into another bowl. Beat well. Lightly stir in the flour mixture until blended.
4. Fold additional ingredients into the batter (sprinkles, fruit, etc.)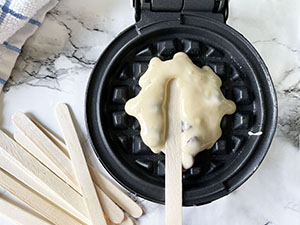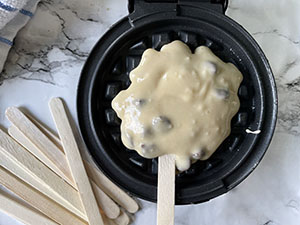 5. Preheat the mini waffle iron. Spray with non-stick cooking spray before pouring batter inside.
6. Scoop a small amount of batter into mini waffle iron, and place one medium popsicle stick in the center of the batter. Cover the exposed side of the popsicle stick. Close the waffle maker and cook until the waffles are golden brown and slightly crispy. Repeat with the rest of the batter. Serve immediately or refrigerate or freeze until ready to serve.