Thai Curry Beef Egg Rolls
Good For:
Appetizer | Snack
1 Tablespoon 

sesame oil

3 cloves garlic, minced

1/2 cup brown sugar

1lb Ground Beef
1 pack of Lono Life | Thai Curry Beef Bone Broth

10 Cabbage leaves, torn into small squares using the most tender parts

2 Carrots, cut into matchsticks

Vegetable oil, for frying
Dipping Sauce suggestions: Sriracha, Sweet chili sauce, Light soy sauce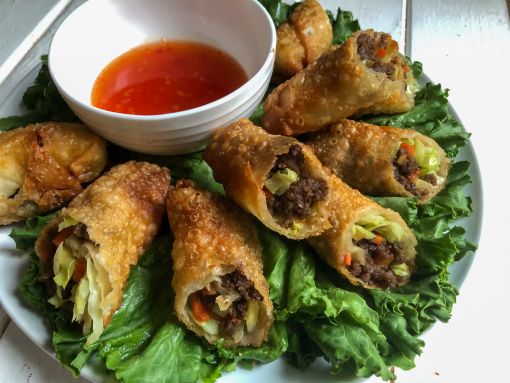 Step by Step Instructions
Heat a large pan over medium-high heat.

Brown the meat with sesame oil, garlic.

Drain 75% of the fat, add brown sugar, soy sauce, and Lono Life Thai Curry Beef Bone pack

Cook until the liquid has reabsorbed and the meat is shiny but not soupy.

Remove meat from pan, and add in the carrot sticks.

Cook for 

3-4 minutes

 until they are slightly softened.

Let the beef and carrots cool.
Working in sets of 4 layout your egg roll wrappers.

Add a small square of cabbage to the egg rolls.
Add 5 or 6 carrot pieces and two tablespoons of beef.
Wet the sides with water using your finger.
Fold the sides in and wet the folded insides.
Roll closed like a burrito and set aside until you finish all 24.
Freeze on a cookie sheet or tray without them touching each other.
From frozen, fry for

 3-4 minutes

 in 350-degree oil.

Drain on a drying rack to prevent sogginess or the egg rolls sitting in oil.