PEACH WHISKY BASIL LEMONADE
This perfect springtime cocktail recipe! Making cocktails at home doesn't have to be complicated. This Peach Whisky Basil Lemonade is made simply and requires very few ingredients you likely already have on the bar cart OR in your garden. I decided to combine two recipes into one post just to switch things up. Please note the lemonade recipe is all up to you and your tastebuds. Make it sour or sweet, whichever makes you happy. If your not a fan of basil, feel free  to add different herbs. Thyme is another great ingredient for simple syrup. I hope you enjoy this cocktail.
Simple syrup uses: Coffee, tea, lemonade, cocktails, desserts, and more. When making simple syrup, remember to use one up of water to use a ratio of 1 part of sugar to 1 part of water. When adding herbs, rinse beforehand.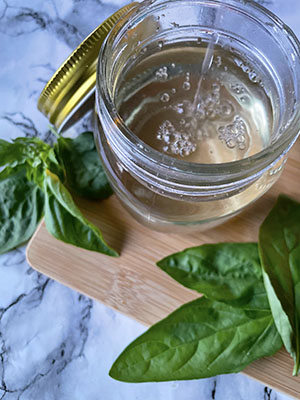 1 cup water
1 cup white sugar
1 cup fresh basil leaves
Using a whisk, stir together sugar, water, and basil in a small saucepan. Bring to a simmer over medium heat. Stir until sugar dissolves when bubbles appear, reduce heat to low, and gently simmer for 5 minutes. Let cool, then strain. Freeze into ice cubes OR place in the refrigerator for up to 1 week. 
Tart or sweet? What's your preference? When making lemonade there's no PERFECT recipe in my opinion. It all depends on your tastebuds. Mix lemon juice, water, and simple syrup to create your masterpiece.
Lemon juice
Simple syrup
Water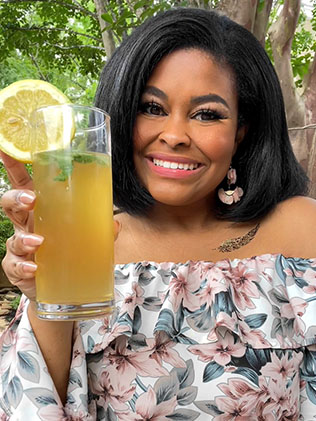 PEACH WHICKY BASIL LEMONADE
ICE
2oz Peach flavored whisky of your choice
(I used "Select Club Peach Whisky)
Fresh lemonade
Basil leaves
Club soda
Scoop ice into a glass. Pour your desired amount of fresh lemonade, 2oz of peach whisky, and soda water/ club soda. Garnish with fresh basil leaves and a lemon slice.