I feel like there's no perfect Homemade Tomato sauce recipe. The internet is filled with many versions. I believe the perfect sauce is made based on your taste palette. This is my own interpretation of "Homemade Tomato Sauce" made with 9 ingredients! I also added Cabernet Sauvignon to this recipe. You can also add any of the following wines: Cabernet Sauvignon, Merlot, Pinot Noir, Chianti, Zinfandel.
Good For:
Pasta & Dipping sauce
12 tomatoes (large ripe)
1 tsp Fresh Basil (minced)
1 tsp Fresh Oregano (minced)
1/2 tsp Fresh Thyme (minced)
4 Cloves Garlic (Feel free to use less. I LOVE garlic)
1/4 cup Raw Sugar
2 cup Chicken Broth
1/4 cup Cabernet Sauvignon Wine  (Any Brand)
Salt & Pepper (to taste)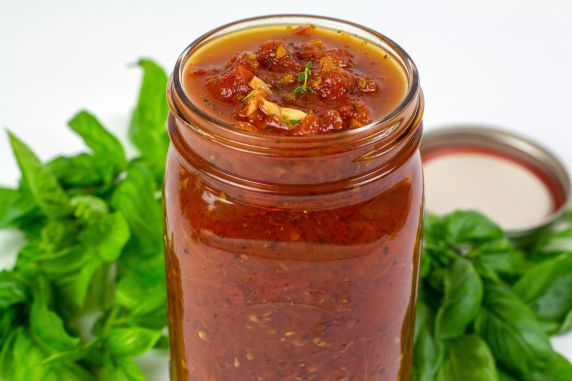 Step by Step Instructions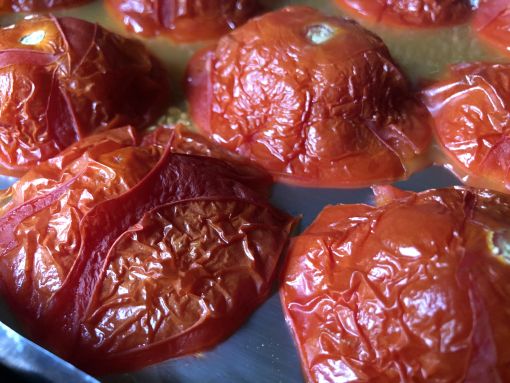 1. Preheat the oven 400°F.
2. Slice tomatoes in half then place cut side down onto a nonstick baking sheet (or pour olive oil onto a baking sheet and spread it around the sheet).
3. Roast tomatoes for about 30-40 minutes, or until the skins start to lift from the tomatoes.
4. Remove and cool.
5. I prefer to keep the tomato skins on, but feel free to remove them if you want. Crush tomatoes in a mixing bowl then set aside.
6. Heat a large pot on the stove over medium-high heat. Pour in chicken broth, roasted tomatoes, and remaining ingredients. Reduce the heat to low and simmer for 1-4 hours.
7. If you prefer a smoother texture use a hand mixer to puree until the desired consistency is achieved. I prefer a slightly chunky sauce.
Storage Notes:
This recipe can be used in canning. For easy long term storage, cool and then place into several gallons sized resealable freezer bags. Lay flat on a pan and place in the freezer until solid. Thaw and reheat in the microwave or on the stove to serve.