1

 

loaf of bread (French, Sourdough, Whatever you prefer)

4

 T

ablespoons

 

olive oil

1 teaspoon of your preferred seasoning (I used 

Italian seasoning and pepper)
Step by Step Instructions
Shopping notes: I recommend purchasing a pre-sliced loaf of bread from the bakery department of your favorite grocery store. Some places like Publix will slice the bread for you (Save the other slices for mini grilled cheeses).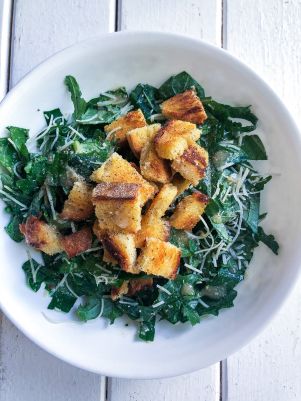 Step by Step Instructions
Step 1
Preheat oven to 350 degrees F (175 degrees C). 
Step 2
Determine the number of croutons you want to bake. Mix olive oil and spices together in a small bowl. Brush bread on both sides.
Step 3
 Arrange bread on a baking sheet. Place in the oven for 7 to 10 mins or until browned on both sides. You may need to flip your bread. Let cool. Crumble over Salad or Soup and enjoy it!