DIY: 
Rudolph Reindeer Footprint Art
Watch the video in this post to see how to make this adorable Rudolph Footprint Art. This sweet Rudolph Reindeer Footprint Art makes a sentimental Christmas art project for kids and babies. A lovely way to remember how tiny their feet were that Christmas holiday season!
Christmas is a magical time for children, especially when they are still little. This is my daughters FIRST Christmas, I wanted to do something fun, creative and easy. Once again, I settled on finger paint because babies love to get messy.  This holiday season remember how tiny your child's feet were with this sweet Rudolph Reindeer Footprint Art. It takes less than half an hour to make but will provide a lifetime of memories! 
Of course Rudolph the favorite reindeer. Bring him to life with this easy project. I used my CAMEO silhouette Machine to make the antlers on card stock (see download below). You can always draw the antlers with a sharpie if you like.
What can I do with Reindeer Footprint art?
You can make it as a gift – this would make a lovely grandparents' present! You can keep it forever and take it out each Christmas holiday season, or make one each year to see how the footprints have grown! 
To personalize you can add your child's name and the year right on the canvas frame. 
Be sure to print my FREE Printable Antlers HERE AND Coloring pages from Crayola.com.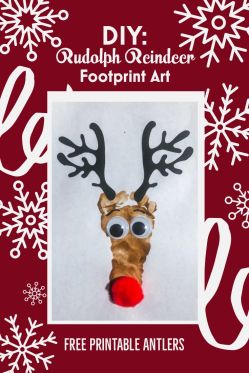 DIY  Materials
A Tiny Human who loves to finger paint
Brown craft paper (I purchased my roll from Target)
White Construction paper
Red Pompoms (Small or Medium) OR Red Glitter
Washable paint | I used Crayola Washable Paint (or any paint you choose)

Glue

A Sharpie
Scissors
Large Googly Eyes