DIY: How to Make a Balloon Arch
Looking for a decor element to take your next celebration over the top? Whether you're hosting Friendsgiving, a family barbeque or hosting a dinner party, a DIY balloon arch is just what your party needs! 
This is one of my favorite projects! There are endless color combinations, also supplies are cheap. This trendy DIY project may appear complex at first glance. But don't let the "wow" factor discourage you from creating your own masterpiece!
Before jumping in, take a peek at the materials I used.
Happy Crafting!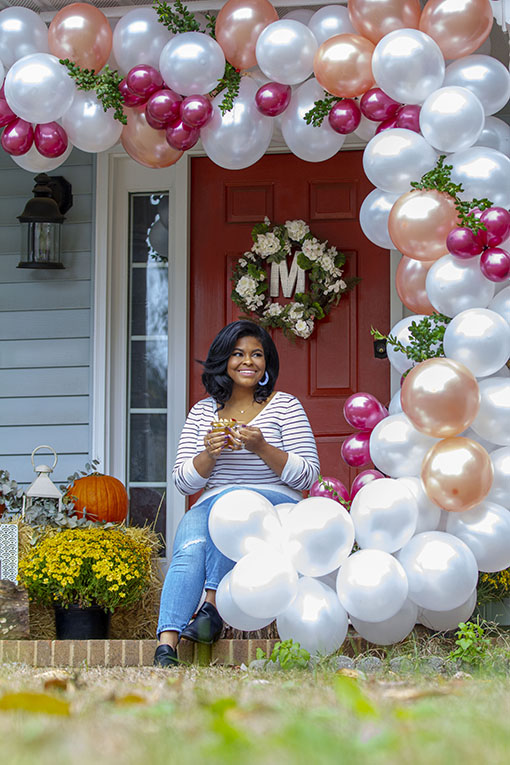 DIY Balloon Arch Materials
Step stool

Scissors & Sewing Needle (Depending on one your party space you may need hooks or thumbtacks to hang the arch)

Flowers or greenery (I used branches from my yard)

Here's a great Balloon Pump I would recommend: Electric Air Balloon Pump

An assortment of large and small balloons, in the color palette of your choice
How to Make a Balloon Arch
Your arch doesn't necessarily need to take on a traditional arch formation. I would recommend looking at different ideas on Pinterest or Google. Consider creating a unique shape like an incomplete arch (I did this, see above image).
1 . Start by blowing up a bunch of your smaller sized balloons followed by the larger balloons. Be sure to separate your colors into groups for later use. I placed mines inside individual boxes.
2 . Measuring: Determine how much fishing line you will need for your arch. I HIGHLY recommend leaving an extra foot or two at the end to curve around tables or doorways. My arch was 10 – 11ft long.
3 . Tie one end of the fishing line to an inflated balloon. Next, tie the other end to your needle. Begin threading your needle through the end of each balloon.
4 .  Continue threading the fishing line through the end of each balloon. Slide each of the balloons all the way down, one at a time. Repeat this step. Vary your balloons in color and size as you add them to the line.
5 . Once you've reached the end, tie a knot around the last balloon a few times to secure it. Double-check that your balloon arch is the correct size. If not, you can always tie additional fishing line around the last balloon and repeat step 4.
Hanging Your Balloon Arch
6 . Start by deciding which end of your arch will be at the top, and which will be at the bottom. You might need someone to help you hold it up to see where you'll want to situate it before securing it.
7 . Don't hesitate to wind your fishing line around your balloon arch a few times to secure it to the wall or structure. 
8 . Final Touches! Place your greenery or flowers inside the open gaps of your balloon arch. I used small branches from my yard. YAY! You're FINISHED!! I hope you enjoyed this How to Guide!