Strawberry Mint Sauce:
Egg Roll Filling
2 (8-oz.) blocks cream cheese – softened

1/2 cup granulated sugar

1/2 cup sour cream

1 tsp pure almond extract

Pinch kosher salt

12 or more eggroll wrappers

Vegetable oil, for frying

Powdered sugar, for garnish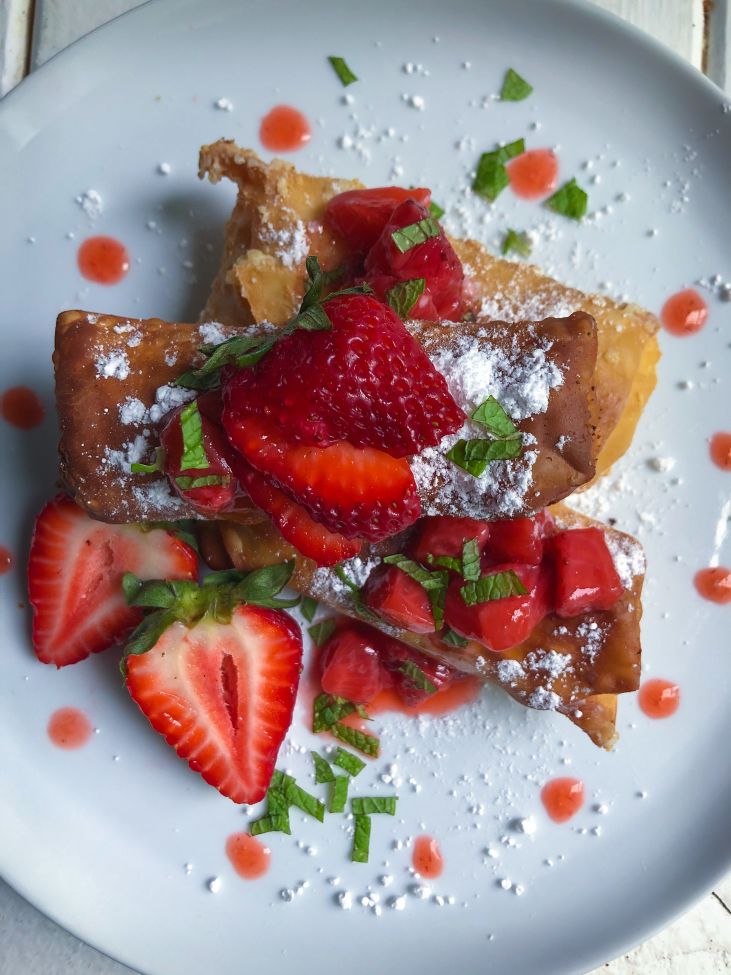 Step by Step Instructions
In a small saucepan over medium heat, combine strawberries, and simple syrup. Stir to combine and bring to a simmer. Stirring frequently, cook until thick and jammy, 3 to 4 minutes. Transfer to a medium bowl and set aside.
2. In a large bowl, combine cream cheese with sugar, sour cream, Pure Almond, and kosher salt. Combine using a hand mixer, beat ingredients until fully combined.
3. See Folding technique Example below – Place an egg roll wrapper on a clean surface in a diamond shape and spoon approximately 3 tablespoons cream cheese mixture into a line in the center. Fold up bottom half and tightly fold in sides. Gently roll, then seal fold with a couple of drops of water. 
4. In a large skillet over medium heat, heat oil until it starts to bubble. Add egg rolls and fry until golden, 1 minute per side. Transfer to a paper towel-lined plate to cool slightly.
5. Dust with powdered sugar and serve with strawberry mint sauce. For extra garnish, sprinkle mint over top.