My favorite fall tradition is making butternut squash soup on a chilly afternoon. Fall soups are particularly great because it's often calling for simple ingredients you can whip up last minute. On a brisk day, there's nothing more soothing than chopping and simmering vegetables over a warm stove.
Some of these ingredients are used multiple times:
3lb Butternut Squash
2 tablespoons extra-virgin olive oil
1 large yellow onion, chopped
3 garlic cloves, chopped
3/4 teaspoon salt (or to taste)
Freshly ground black pepper
1 can coconut milk (or to taste)
4 cups vegetable stock (I used Chicken stock)
1 tablespoon minced fresh rosemary
1 tablespoon chopped fresh sage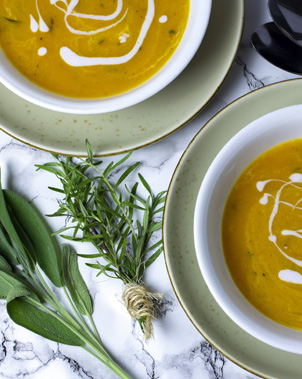 Step by Step Instructions
1. Preheat oven to 350°F. 
2. Slice squash (halved lengthwise). Scoop out seeds and discard or Store inside a ziplock bag to grow in soil.
3. Place butternut squash cut side up on a baking tray. Drizzle with oil, sprinkle with salt and pepper. Bake for 45 to 50 minutes, or until it is very tender. Note: Test this by inserting a skewer to the thickest part, if there is no resistance it's done. It is better to slightly overcook the squash instead of undercook.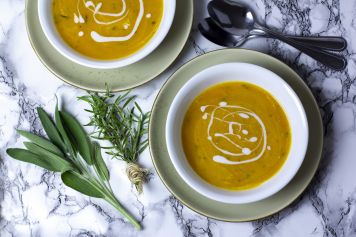 4. Meanwhile, heat a large pot over medium heat. Cook onions for 10-12 minutes, stirring often. Stir in garlic and cook for 1 minute longer.
5. Add broth and herbs. Bring to a boil and then reduce to a simmer. Add roasted squash to the soup mixture. Puree the soup using an immersion blender or carefully add in batches to a blender. Make sure to vent the blender to allow the steam to escape.
6. Return back to the pot and add the desired amount of coconut milk (added 1/3 cup). Check for taste, add extra seasoning if desired.