At Home: Blushing Peonies Nursery Theme
I couldn't wait to write about my daughter's nursery! Honestly, this is my favorite room in our house. My husband and I worked very hard to transform our smallest guestroom into the perfect nursery fit for a princess. When my husband and I found out we were having a baby girl I was SO EXCITED to be able to do a feminine nursery!! I originally envisioned PINK EVERYTHING! Then I decided to incorporate the colors, Grey & White. Like all new moms, I gathered my inspiration from Pintrest.com.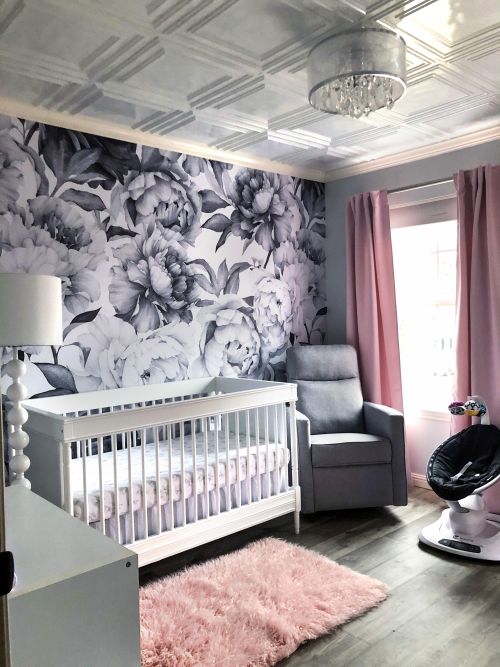 This room previously had a stipple ceiling (AKA popcorn), carpet, and a ceiling fan. My favorite part about this room is the accent wall and ceiling tiles, which completely transformed the entire space. Here's a before and after photo of the nursery.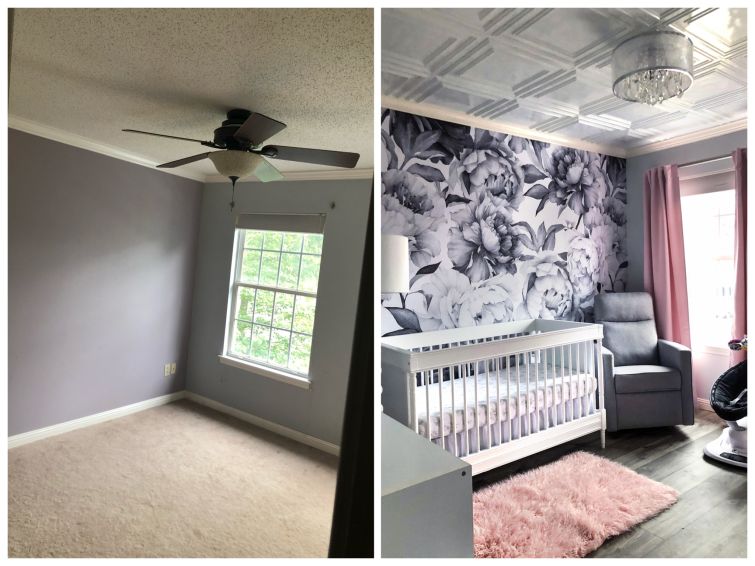 Flooring
We choose click-and-lock floors to allow for quick installation with no glue or nails! These hardwood panels were purchased from Home Depot. 
Ceiling Tiles 
I'm OBSESSED with ceiling tiles! They're one of the best ways to increase the value of the home. Homes with ceiling tiles are more valuable due to their aesthetic appeal. Here are the tiles we purchased.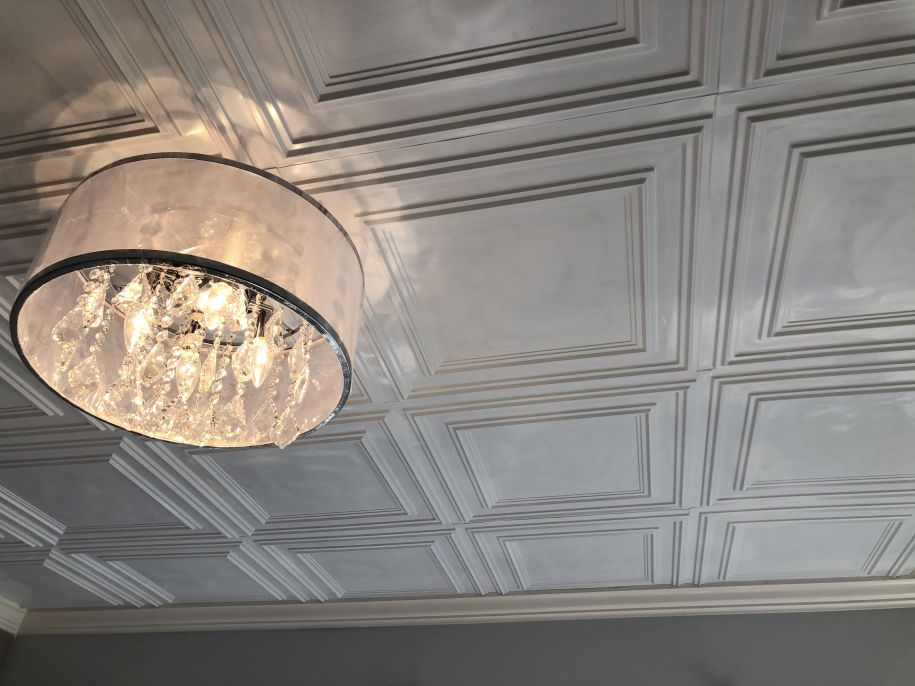 Crystal Chandelier
I couldn't wait to remove the ceiling fan in this room. It's amazing how a chandelier can transform a space—so why save all the fun for the formal dining room? Here's the chandelier we purchased from Amazon.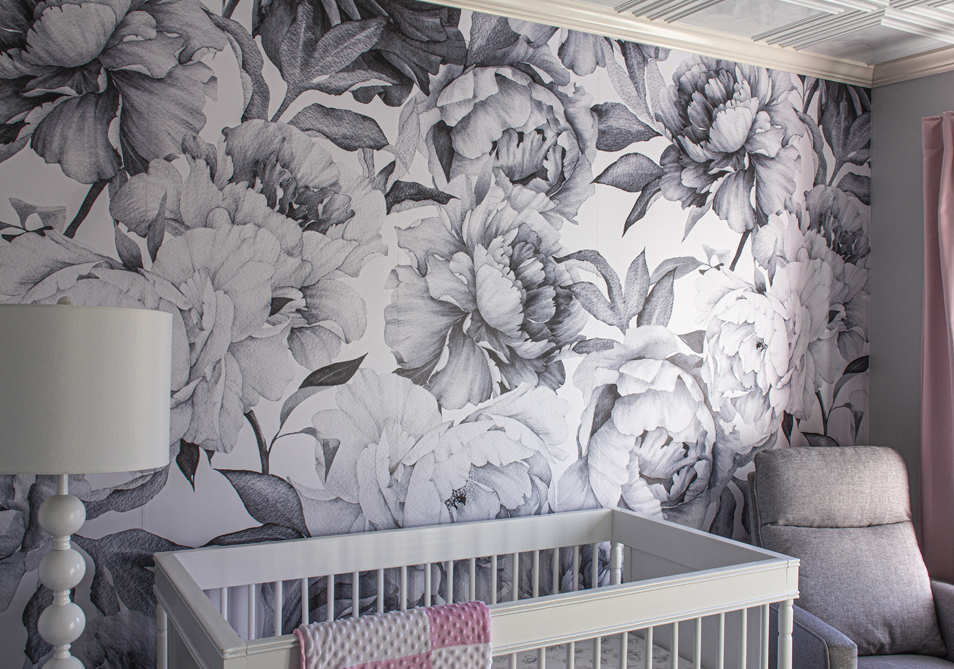 Peonies Grey 'N White Mural (Accent Wall)
As a former Visual Merchandiser, it was super easy for me to install this wallpaper, even at 7 months pregnant! I am OBSESSED with removable Peel 'n stick wallpaper! Unlike your grandmother's wallpaper, this is the thing in home decor right now. Whether you have dark, repressed memories of removing wallpaper and swearing you'd never use the stuff, or you rent and don't want anything permanent on the walls, this stuff is a godsend. 
Wallpaper from Etsy Shop: Coloritto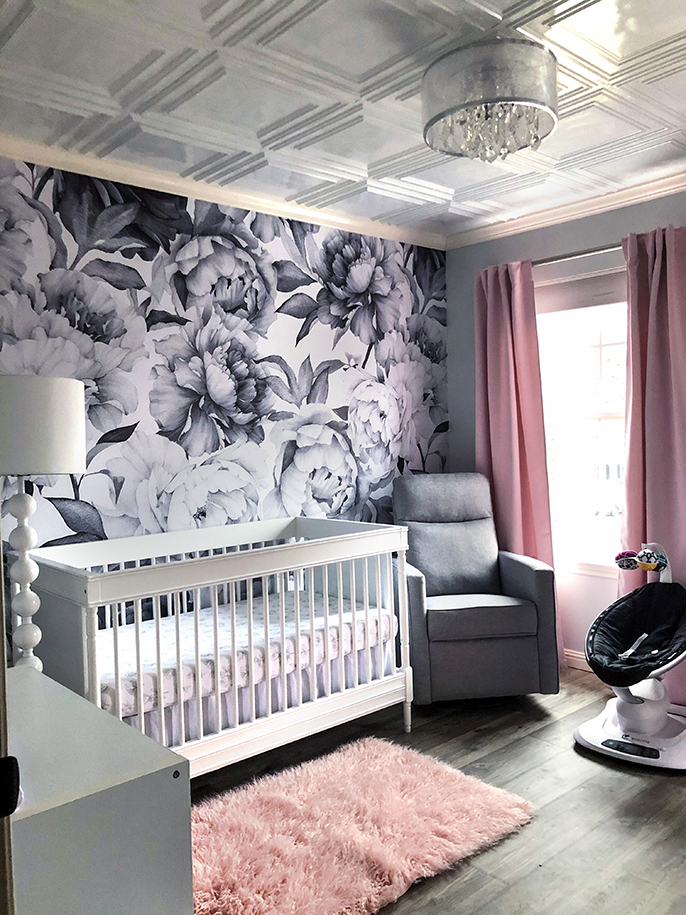 Pink Rug
Sorry, no link. I found this at HomeGoods