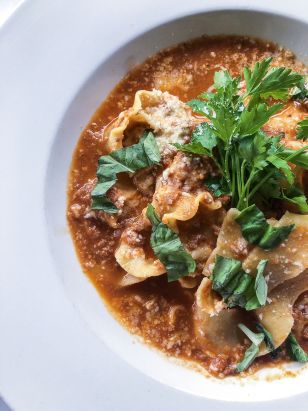 Fiamma
Life is a combination of magic and great Italian cuisine, wouldn't you agree? Fiamma Restaurant is one of Charlotte's best-kept secrets. 
My recommendations: Fresh Pesto & bread (Made in-house), Burrata w/ Tomato & prosciutto, Fritos Misto & FRESH tomato sauce
Zucchini Con Gamberi. Cavatelli Alla Lipari, Gnocchi Alla Mondeghill, Papardelle, Bolognese, Linguini Neri Sciue and Gamberetti. Crème brûlée, panna cotta, and tiramisu
Be-Em Asian Kitchen
This family-owned, Asian fusion restaurant with tastes from Korean, Japanese, Vietnamese and Chinese cuisines. This place is very warm and inviting. Bé Em uses non-GMO ingredients and believe it or not you CAN taste the freshness. The menu offers tasty options ready to excite your palate!
My recommendations: Pan Fried Chicken Dumplings (4PCS) and Bé Em's Signature Bowl – Comes with Shrimp tempura, spicy tuna, seaweed salad, spicy crab mix, avocado, scallions, cucumber, sesame & sweet chili.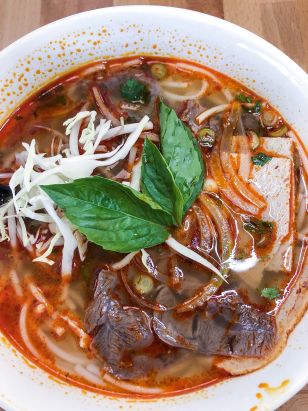 Cilantro
Cilantro has become everyone's favorite spot in Plaza Midwood. I think Cilantro offers a good introduction to first-time Vietnamese cuisine eaters. The menu is easy to navigate for the picky eaters looking to spice things up.
Featured Image: Bun Bo Hue (MOM'S SPECIAL BEEF NOODLE SOUP) – Served with Thick noodles surrounded with beef broth with beef shank. Customers can order this dish spicy or non-spicy.
Hawkers Asian Street Fare: South End
This place is amazing. Hawkers offers a great variety of small plate meals that are perfect for sharing. 
My recommendations: East Street Five-Spice Fish Tacos, Yi-Yi Chicken Dumplings, #dimsumcrunchyballs, Roasted Duck Steamed Baos, Sichuan Wontons, Curry Laksa, Chee Cheng's Char Kway Teow
The Sake flight is also really good!
Featured Image: Sichuan Wontons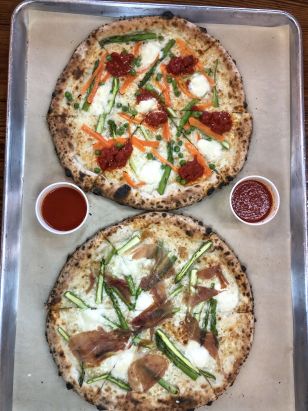 Inizio Pizza Napoletana
Another one bites the crust! I love the pizza here, however, the seasonal cannoli's are fantastic! 
My recommendations:
Pizza Primavera, Di Parma, Raffaele
Luigi
The Spring Salad
Apple Pie Cannoli
Brownie Cannolia Scallops
Featured Image: Pizza Primavera & Di Parm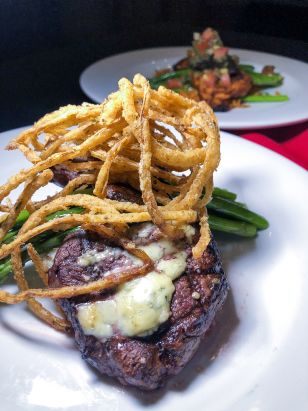 Red Rocks Cafe: Indian Land
Good food is all the sweeter when shared with good friends! This all American restaurant has something for everyone.
My recommendations: Denise Hammond's Calamari, Jeff Parker's Black & Bleu Prime Filet
Bob Hagar's Pepper Charred Tuna, Micky Gold's Sesame Tuna, Cary Dowell's Chicken Penne Pasta
Featured Image: Jeff Parker's Black & Bleu Prime Filet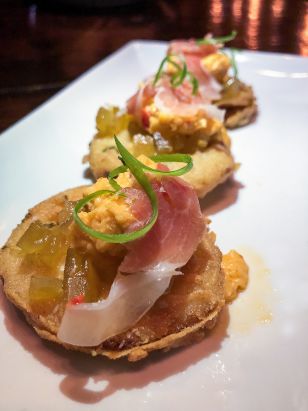 204 North Kitchen & Cocktails: Uptown
This is definitely my favorite place to eat in Uptown Charlotte. The atmosphere is rustic and relaxed. All the food is locally sourced and pairs perfectly with their handcrafted cocktails. 
My recommendations: 
Deviled Eggs, Fried Green Tomatoes, Calamari, Hot Chicken Sliders, Charcuterie & Cheese, Cast Iron Meatballs – 100% grass-fed beef
Featured Image: Fried Green Tomatoes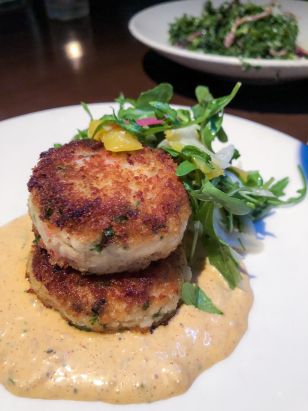 Mimosa Grill: Uptown
My recommendations:  STARTERS + SALAD: Border Springs Denver Lamb Ribs, Carolina Crab Cakes, *Wagyu Beef Carpaccio with olive oil bread and Arugula Micro-Greens, Grilled Kale Caesar 
ENTREES: *Filet of Beef Tenderloin, Springer Mountain Farms Fried Chicken with Pimento Mac n' cheese, Cast Iron Roasted Diver Sea Scallops
DESSERT: Meg's Famous Carrot Cake (Very popular menu item)
Featured Image: Carolina Crab Cakes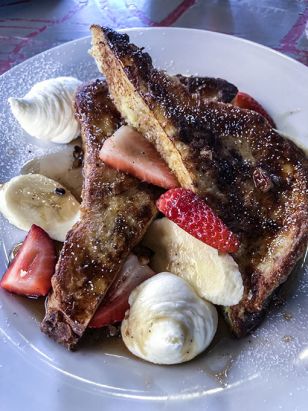 Bistro La Bon II: Cotswold
Bistro La Bon II is located in the alleyway of Cotswold Village, (across from Salsaritas and Panera Bread). Not only is the service unforgettable but the Brunch & Dinner menu is so good!
The food is inexpensive. Portions are very filling and satisfying.
My recommendations: Chai French Toast (MUST HAVE), Spinach Benedict (Vegetarian-Friendly), Crab Cake Benedict, Pork Chop & Waffles, Shrimp & Polenta, Asiago Grits
Featured Image: Chai French Toast (MUST HAVE)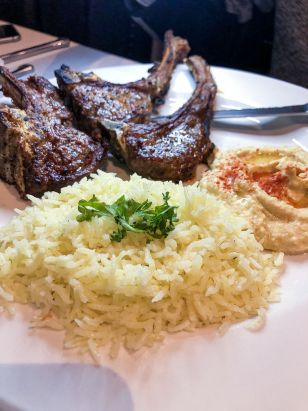 Ararat 17: Matthews
Ararat 17 Restaurant is hands down my new favorite place to eat in Charlotte.  They have the best Armenian food! So many great menu options to choose from. I've always felt like Armenian food mostly relies on the freshness and quality of ingredients, not the spices. 
My Recommendations: The Combination Starter, Tabbuli (Best Salad Ever), Cabbage salad (Unforgettable), Lamb Chops & Lamb Shish Kabob.
Featured Image: Lamb Chops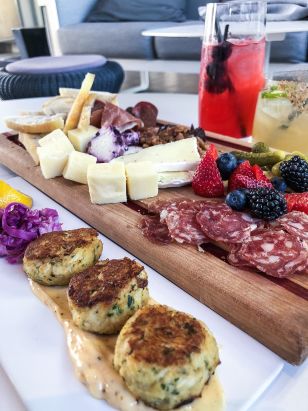 Nuvolé Rooftop TwentyTwo: Uptown
Nuvolé Rooftop offers a classic cocktail lounge with a seamless indoor to outdoor flow. Located twenty-two stories up in the AC Hotel, this fashionable rooftop gives customers the ultimate viewing experience.  
During the week it's less crowded (which means you can snap as many IG pics as you want hahaha).
Featured Image: Charcuterie Board, and signature crab cakes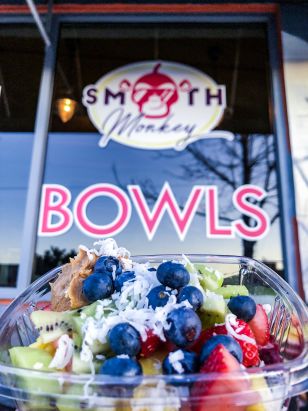 SMOOTH MONKEY: PLAZA MIDWOOD
I am truly obsessed with Smooth Monkey. The staff is friendly, the ingredients are FRESH, and above all the products are GREAT.
I had the opportunity to try the "Cinco De Berry bowl" plus the "PB & Bacon Smoothie". 
My Recommendations: Cinco De Berry Açaí Bowl, PB & Bacon Smoothie 
Featured Image: 
Cinco De Berry Açaí Bowl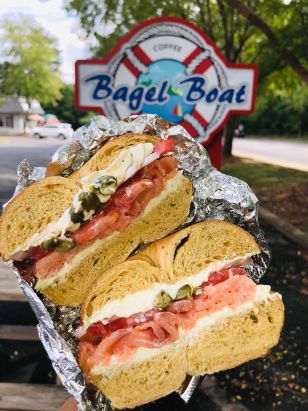 BAGEL BOAT: LAKE WYLIE
Another GREAT hidden gem with delicious eats! The Bagel Boat is tucked away on South Carolina Hwy NC-49. 
Okay, let's talk BAGELS! Customers can enjoy a variety of authentic fresh flavors. Options include: Asiago Cheese, (Parve), Blueberry, Chocolate Chip, Cinnamon Raisin, French Toast, Multi-Grain, Onion, Plain, Sun-Dried Tomato and more.
Featured Image:  "Fresh Lox"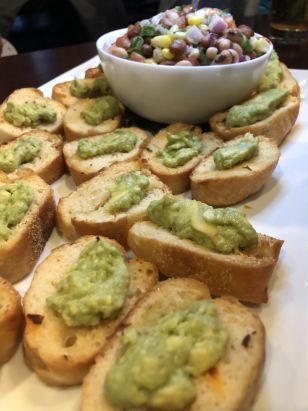 BLACKFINN AMERIPUB: BALLENTYNE
Perfect place to gather for food, drinks, and conversation. Customers can enjoy Trivia during the week and sometimes live music if you're looking for great specials visit Blackfinns website. 
Featured Image:  Carolina Caviar & Avocado Toast!! Possibly the BEST Appetizer! Marinated pinto beans, black-eyed peas, sweet corn, peppers, onions, fresh tomato, ready to spread on avocado toast.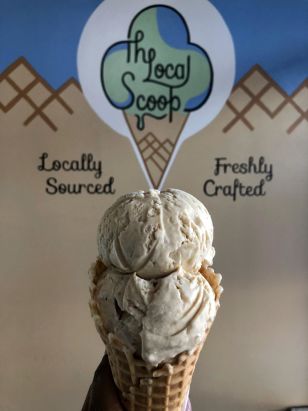 THE LOCAL SCOOP: BALLENTYNE
Who could pass up a generous scoop size of Pumpkin Spice or Caramel Apple Pie ice cream? Not I! I love about this shop is knowing everything is made on-site using fresh ingredients from regional small farms. Staple flavors like the "Honey Vanilla" are made with local honey! The Local Scoop is dedicated to providing homemade ice cream everyone can enjoy.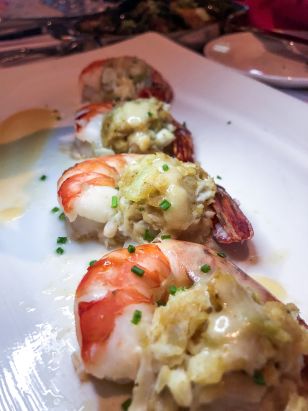 CAPITAL GRILLE: UPTOWN
Whether it's a date night or your dining with friends, The Capital Grille located in Uptown Charlotte offers the perfect upscale dining experience. 
My recommendations: Parmesan Crusted Salmon, Crab Stuffed Shrimp, Dry Aged T-Bone Steak, Double Cut Cheshire Pork Chop, Calamari, Crabcakes, Procuttio Wrapped Mozorella, Chef's Seasonal Salad, Soy Glazed Brussels, Sprouts with Bacon, 16oz Prime Rib, Lobster Mac & Cheese, Cheesecake, Chocolate Cake, & Creme Brulee, Warm Apple Crostata w/ cinnamon streusel
Featured Image: Crab Stuffed Shrimp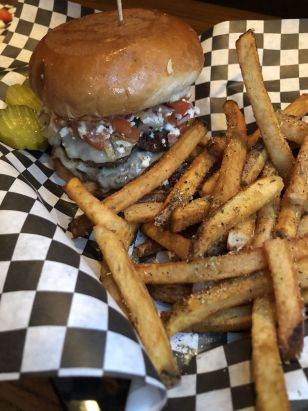 GREYSTONE PUB: SOUTH END
Another awesome hidden gem in the South End area. If you haven't been to Grey Stone Pub your missing out! 
This is a great place to meet for game day fun! The menu offers a good variety of options with a greek inspired twist. With prices starting at $8, customers can enjoy well-portioned meals that will leave you satisfied. Be sure to try the seasoned fries! 
My reccomendations:
Greek Nachos, Triple S! Wings (7ct), Andy's Heavyweight Hoagie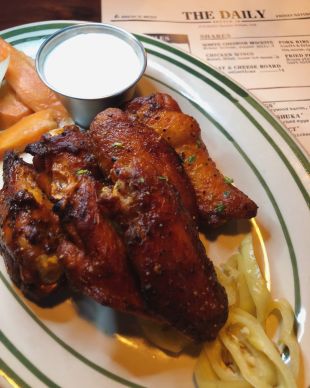 THE DAILY: UPTOWN
Sunday Funday calls for two things—Great drink specials and food! I Love the Daily- especially for brunch with my pals. The bamboo patio is a great dining spot! Intimate and cool, with TVs too. Music was upbeat and chill. 
I'm a fan of any establishment with purse hooks Under the bar. I would highly recommend trying the wings. They're baked, fried, then tossed in a homemade hot sauce. The wings aren't too spicy, I liked the crisp texture.
The White Cheddar biscuits are also a great item on the menu. Served with honey butter and peppered jelly.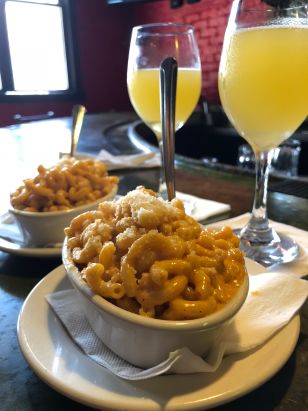 JACKBEAGELS: NODA
Mac & cheese? Yes, please!  This is my favorite place to eat in Noda. It's comfortable, the tables are clean, the staff is friendly and familiar with their daily specials. There's a great beer selection. The food is delicious and affordable. I recently visited on a Sunday afternoon, and to my delight, there were $5 Mimosas. Sign me up! Of course, I couldn't pass up the Mac & Cheese. My inner child was bouncing with pure joy. 
Featured Image: Jack Mac – A JackBeagles signature item. I love the spicy/garlic flavor, a little spicy, but still Delish! 
SHAKE SHACK: PARK ROAD
I LOVE Shake Shack! The service is quick. If you're indecisive the employees are patient and helpful. For many years I've been obsessed with In-N-Out Burger. Now, Shake Shack has made its way into my heart! There are several signature sandwiches to choose from along with hot dogs and french fry options. By the way, you can order beer and wine!! I look forward to enjoying a glass or two during my next visit.
Featured Image: The Shack Burger with a strawberry shake and fries.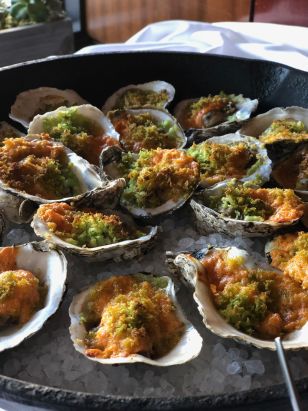 UPSTREAM: SOUTH PARK
If you're looking for fresh/high-quality seafood, you will LOVE Upstream. 
The food is delicious and the drinks are even better! 
Personally, I love the ambiance here. Not too stuffy, and the staff goes the extra mile with service. It does get busy on the weekends so reservations are suggested. If the weather is nice, grab a seat on the patio. 
Be sure to follow their social media pages for updates on specials and fun events.