Is it the weekend? Happy hour? Looking for the perfect drink specials? You've got options! So in the words of renowned poet Rihanna."Cheers to the freakin weekend, I'll drink to that! Yeah, yeah!" 
Southern Distilling Company
204 Kitchen & Cocktails: Uptown
This is definitely my favorite happy hour spot in Uptown Charlotte. The atmosphere is rustic and relaxed. All the food is locally sourced and pairs perfectly with their handcrafted cocktails. 
Drinks I recommend Trying:
– Amazing Grace
– Dilworth
– Ballantyne
– Hashtag Basic
Photo Details: Dilworth & Amazing Grace
Price range: $$ Moderate
Nuvolé Rooftop offers a classic cocktail lounge with a seamless indoor to outdoor flow. Located twenty-two stories up in the AC Hotel, this fashionable rooftop gives customers the ultimate viewing experience. The food menu will also encourage you to stay a while; the light and delicious Crispy House Cut Chips are especially recommended! I love the roasted garlic aioli. I would also recommend trying the Lobster Club Sliders. During the week it's less crowded (which means you can snap as many IG pics as you want hahaha).
Queen & Glass: Dilworth
This hidden gem/cocktail bar is tucked between the "People's Market" (another local favorite) and the parking deck behind it. 
I would recommend the following cocktails:
– ROSEMARY'S BABY: Cardinal Barrel Rested Gin, Fernet Branca, Monkey Shoulder Blended Scotch, Homemade Rosemary Syrup
– CINNAMON GIRL: Tito's Vodka, Apple Cider, Prosecco
– PEAR OF THE DOG: Tito's Vodka, Domaine de Canton, Pear Juice, Angostura Bitters
Photo Details: (L) CINNAMON GIRL, (R)PEAR OF THE DOG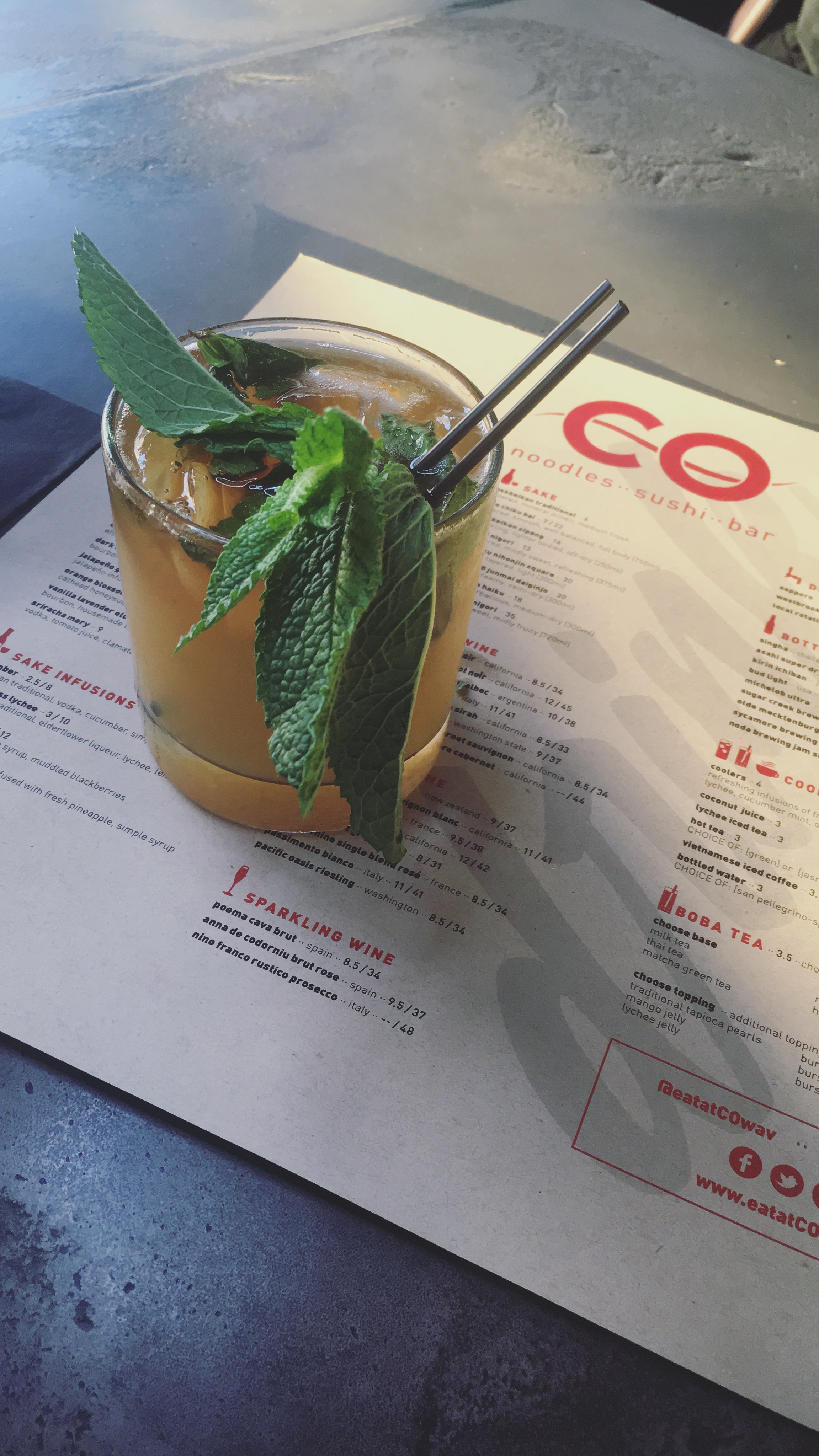 CO: Park Rd Shopping Center & Waverly
You can always count on a good happy hour for some cheap drinks and fun company to lift your spirits. CO offers a wonderful Happy Hour menu with bold and fresh flavors ready to excite your taste pallet. Drink specials are available daily, you'll love the made from scratch signature cocktails! The Jalapeno Margarita and Blackberry Sake Infusion are my favorite drinks.
Happy Hour Deal: Available from 4 – 7 PM, Monday – Friday
My Favorites: 
Blackberry Sake (Half off on Thursday's)
Dark N' Peach Cocktail
Jalapeño Guava Margarita
Photo Details: Dark N' Peach Cocktail
Price range: $$ Moderate
Rooted in South End Charlotte, Sycamore Brewing offers the best of the best! There's something for everyone, options ranging from light IPAs to dark stouts and a few wine options. (Be sure to try the Beermosas) 
This place has a vibe to it unlike any other, the staff is very friendly and helpful. There are tons of events each month, I highly recommend following Sycamore Brewing on Instagram and Facebook.
Customers can enjoy the BEST food trucks with incredible options, dogs are welcome, and the staff is extremely nice. Sycamore has a ton of outside seating, and a lot of the tables have umbrellas. Many people can appreciate this, and the dogs do too! Parking is available across the street and down the block. 
As always, I look forward to coming back to Sycamore Brewing. Such a great place.
Childress Vineyards
I organized a girls trip to Childress Vineyards located in Lexington, NC. We spent the entire afternoon laughing, sipping wine, and touring the 35,000 sq. ft. winemaking facility. 
Childress Vineyard is approximately 1-Hour outside of Charlotte. I highly recommend carpooling with your favorite roadies! Driving into the winery through the Vineyards was like entering a little piece of Europe. The château and tasting rooms are spectacular!  Be sure to explore the gift shop.  Three of my friends scored a 10% off deal on six wine bottles. 
We choose to visit the outdoor Grand Pavilion for our wine tasting. This building offers 360 views of the vineyards and live entertainment! There are three wine flight options to choose from. We each received four, four-ounce stemless wine glasses as a souvenir! 
My selection: $12.49 (The Sweet Wine flight which included)
– Classic White (MY FAVORITE)
– Classic Rose
I swapped the Muscadine white and Red for the 2015 signature Meritage and 2015 Cabernet Sauvignon. 
Bold Missy Brewery: NoDa
Have you ever tried Glitter beer? That's right friends, Glitter Beer!
Bold Missy Brewery offers a few games (corn hole, giant Uno, and more). The customer service is excellent, the staff is very helpful and informative with their menu options. I'm assuming the beer menu changes every few months. I had the pleasure of trying The Greatest Beer on Earth! Literally! So I'm definitly obsessed with the Key Lime Golden Ale!
Prices are inexpensive, beers are available in, 4 oz. flights, half pints, and pints. Customers can take home a 64 oz. growlers or 32 oz Crowlers to-go. They also offer prosecco, Red Clay cider, and bottled water.
Price range: $ Inexpensive
Photo Details: Key Lime Golden Ale
SWIPE FOR MORE PHOTOS!
The food menu offers a good variety of options with a greek inspired twist. While the food is amazing here let's not forget about the drinks!
From my understanding, GreyStone started the Capri Sun trend in CLT. If you find yourself in the area drop in a try the Pineapple mojito, Watermelon mojito or even the  Blueberry mule.
This is a great place to meet for game day fun! There's plenty of parking for customers. There's a small patio area that's great for small gatherings, no worries this area is covered. 
Your taste buds will thank you.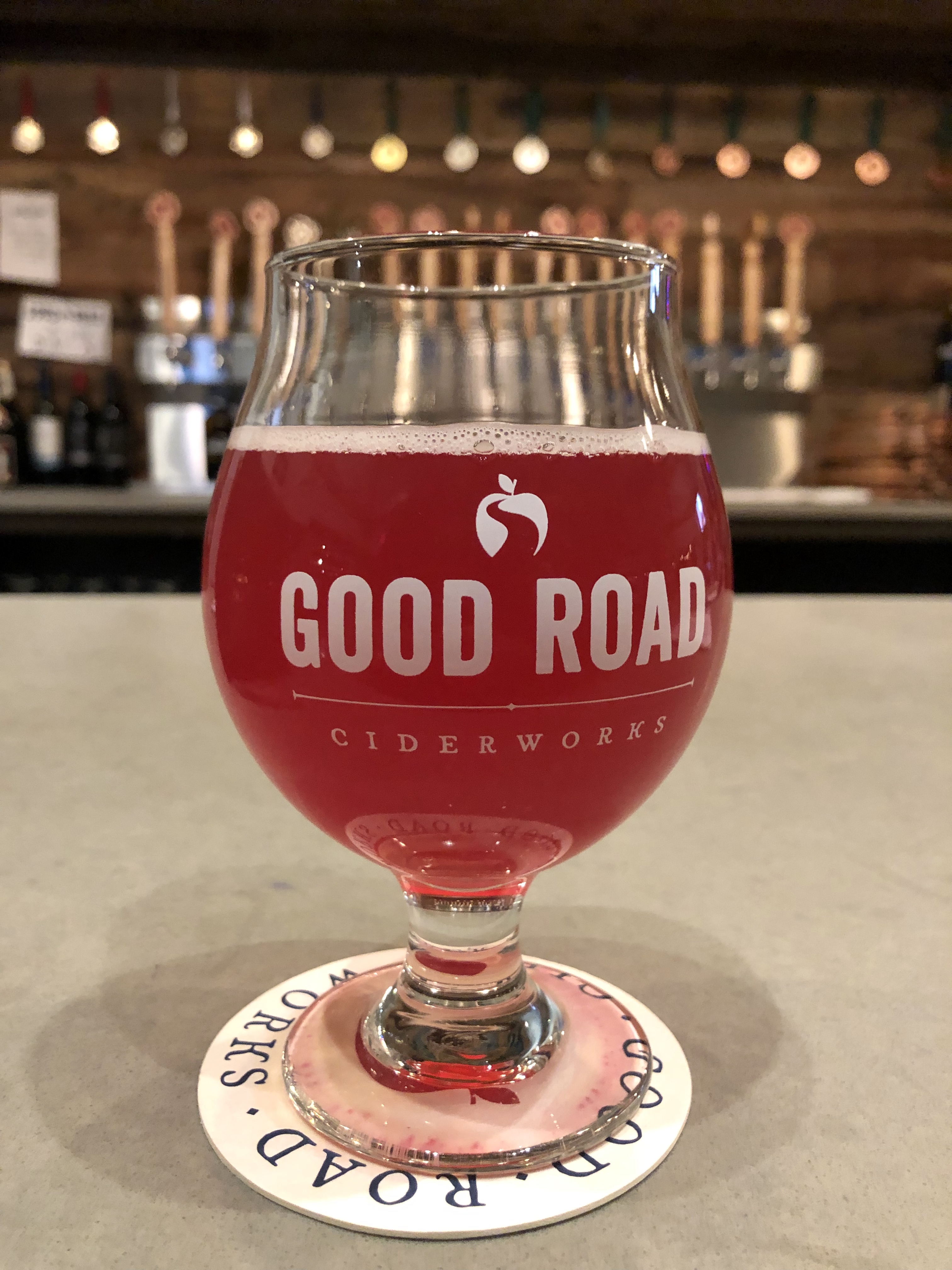 What an awesome little spot for some good cider! All of the ciders have a distinctly different taste, but there is beer and wine available as well.
Customers can also enjoy meads, and other Non-Alcoholic beverages. I had the pleasure of enjoying the Cranberry Crossroads Cider, which is Semi-Dry. They offer flights which consist of five 4oz pours, prices vary by sections made. The interior is clean and comfortable. I definitely recommend checking this place out! A nice change of pace from the brewery scene. Nice dog-friendly patio when the weather permits.
I've had this place bookmarked for a while. I look forward to coming back for a tour.
DRAUGHT: UPTOWN
During the summer you're sure to have an unforgettable experience. First of all, every week the DJs are the centerpiece of this place. They deliver the ultimate brunch party! Need to host a Private Event? No problem! Reach out to the events specialist for reservations. I hosted my engagement party here a few years back (Yes, we had a mimosas bar) everyone loved it!
Parking: There is a private parking area, beware of game days! It gets packed
Dress Code: Casual
My Tip: Download the Yelp App and receive 10% OFF your bill (WINNING)
Price range: $$ Moderate
Some of the world's most intriguing bars are in locations you might not expect.  Often hidden in plain sight (you blink and you'll miss it) or in disguise, some bars around the United States aren't just cool, they play hard to get, too. 
If you find yourself in downtown Pineville, NC stop at Pintville Craft Beer. The bartenders are very helpful to indecisive customers. 
Who doesn't love a good beer flight? Here's what I selected: (Left to right)
#6 Raspberry white by Sugar Creek, #11 Solo flight by Bold Missy, #22 Jalapeño pale ale by Bird Song,  #23 Watermelon kolsch by Sycamor
Heist Brewery: NoDa
I love Heist Brewing because the beers are great and the environment is fun. I came on a Saturday afternoon with a friend. We grabbed a seat at the bar, It wasn't crowded. Parking was a pain! I highly recommend parking further down the street and walking.
I tried the Blackberry Pick'n and the Good Road Blue ByWay. Both were great options! I liked the tart flavor of the Blackberry Pick'n and the blueberry cider flavor of the Good Road Blue ByWay. Heist Brewing also offers food.
Price range: $$ Moderate
Photo Details: Blackberry Pick'n
Fun Fact: Heist has an event space available.
WP KITCHEN + BAR : SOUTH PARK
I love coming to WP Kitchen + Bar. The food and service are excellent. I've always enjoyed the warm and comfortable atmosphere.
The signature cocktails were amazing! Summer 2017 I fell in love with the Spring Thyme Lemonade–Comes in a tall glass (SOLD) this beverage is probably the most refreshing beverage I've ever tried! I definitely ordered two of these!!
Be sure to try their brunch, it's delicious!
Price range: $$ Moderate
AMÉLIE'S FRENCH BAKERY & CAFÉ: UPTOWN
Je T'Aime Amélie's French Bakery & Café! What's more fabulous than sipping chilled prosecco and enjoy the wonders of crème brûlée! Amélie's offers a variety of desserts, pastries, wine, coffee and more. You'll love the vintage-inspired Parisian decor! From the tables to the chandeliers everything is French inspired. If you're looking to avoid the nightlife scene, come here!
There are six locations, some offer live music and others are open 24/7.
Price range: $$ Moderate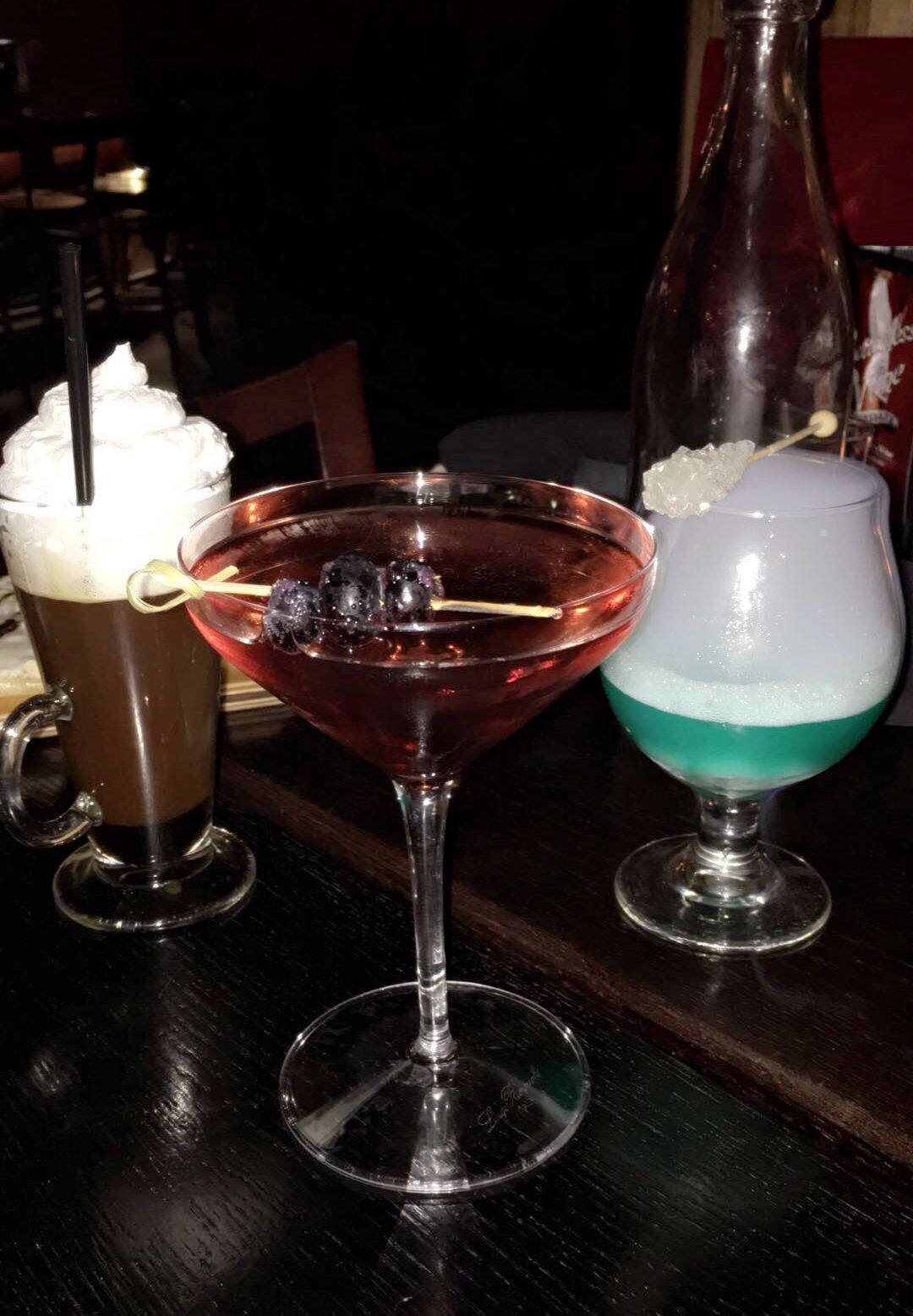 CRAVE DESSERT BAR: UPTOWN
Whatcha gon' do with that dessert?
Crave Dessert Bar
has been serving up greatness since 2008! This is one of my favorite dessert bars/ lounges. Great Ambiance, FREE Parking, and scrumptious desserts! Weekends can get busy, therefore you should make reservations.
Photo Details: Left to Right Chocolate Kiss cocktail, Berries & Bubbles, The Secret Crush
Dress Code: This is Uptown Charlotte: Dress to impress nothing less
My Tip: Download the Yelp App and receive 15% OFF your bill (WINNING)
TUPELO HONEY: SOUTH END
Looking for southern cuisine with a modern twist? Make your way over to Tupelo Honey!
The food and drinks are phenomenal! I love coming here for Happy Hour. This restaurant makes their own mixes in-house, and the honey liquore is made specifically for the margaritas…..Talk about a wow factor! This is just another reason to love Tupelo Honey. Each season customers can expect delicious handcrafted cocktails and great happy hour deals. Download the Tupelo Honey app to receive updates on upcoming events, and track your rewards.
Photo Details: Cherry Bomb Frose
My Tip: Download the Yelp App and receive 10% off your bill when you check-in
Price range: $$ Moderate
CORKBUZZ: SOUTH PARK
Monday's just got better because Corkbuzz Restaurant & Wine Bar offers "Buy A Bottle, Take A Bottle on Mondays" Awesome right? But here's the hard part…Who gets the bottle?? Here's another question, when was the last time your ordered dessert first? I almost never order dessert first. If you have the chance, try the Strawberry Meringue pie! Your taste buds will thank you! My favorite part was the crust! I loved the tiny pieces of Pistachios! I also had the pleasure of trying the churros, which were amazing! Light and airy! Came with three dipping sauces (which you won't need). Corkbuzz is the perfect place to gather with friends on any weekday. Check out their daily specials below.
Dress Code: Dressy
Photo Details: Strawberry Meringue Pie
Price range: $$ Moderate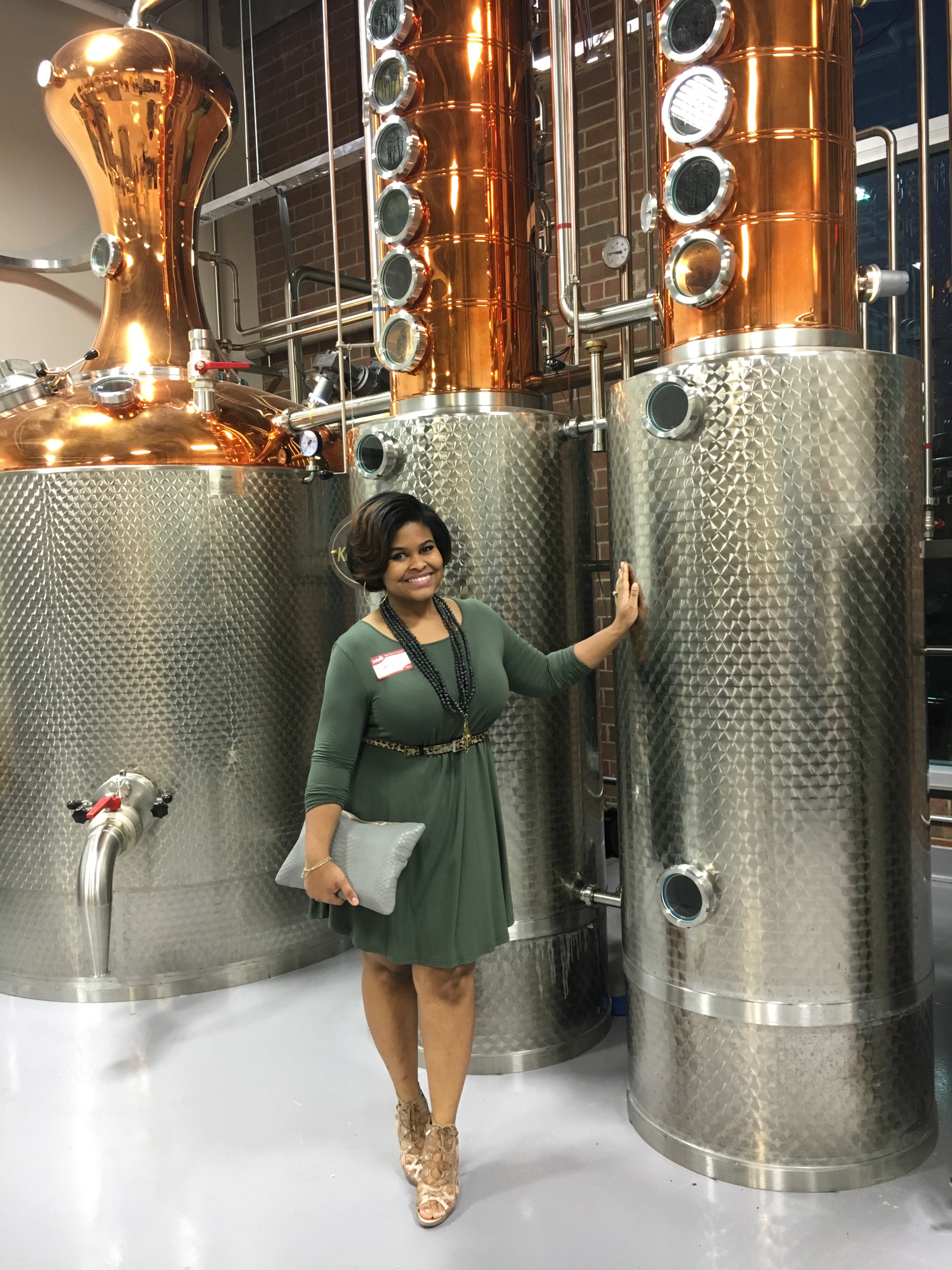 BROKEN SPOKE
The Broken Spoke offers a sophisticated atmosphere that's cozy and inviting.
My first visit was during a Yelp Elite event. We had the honor and privilege of meeting the owner Mr. Ollie, he gave us a tour of the distillery. After the tour, we sampled a few appetizers and beverages. My favorite was The Drunken Mule, very refreshing! On Sundays, you can enjoy cheap mimosas made with freshly squeezed orange juice.
Photo Details: Touring the distillery
Nearby Businesses: Queen Park Social, OMB, & Sugar Creek Brewing
Dress Code: Causal
Tours: Saturday: 1pm, 2pm, 3pm, & 4pm
Price range: $$ Moderate
The Unknown Brewing Co.: South End
I love the atmosphere here! The rooftop offers a lovely view of uptown. The downstairs patio is dog-friendly.
The Unknown Brewery has a great selection of beers and a small wine selection. I had two glasses of the Jalapeño Lime Beer, this wasn't featured on the menu. You and also order flatbread pizza for $13.
During the week you can expect fun and exciting events like trivia, YMCA yoga, and Ping Pong League. I definitely look forward to coming back here again soon.
Price range: $ Inexpensive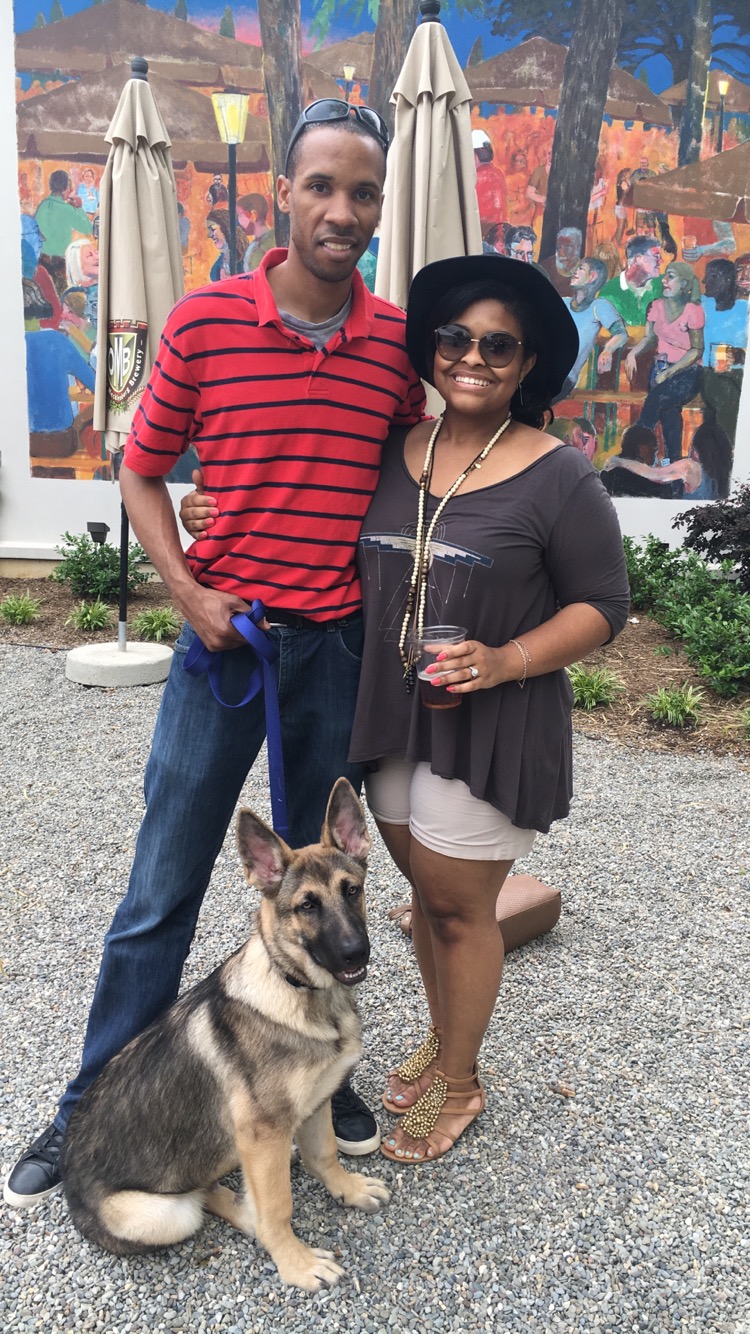 OMB: OLDE MECKLENBURG BREWERY
Great for large groups, wine lovers, beer connoisseurs, engagement parties, Yoga and more. OMB is Charlotte's biggest local brewery. The beer garden is beautiful, Dogs are welcome (outdoors only). Weekends can get busy, so it helps to grab a table fast. Many parents bring their children to enjoy the games and live band.
Nearby Businesses: Queen Park Social, Sugar Creek Brewing & The Broken Spoke
Dress Code: Causal
Price range: $$ Moderate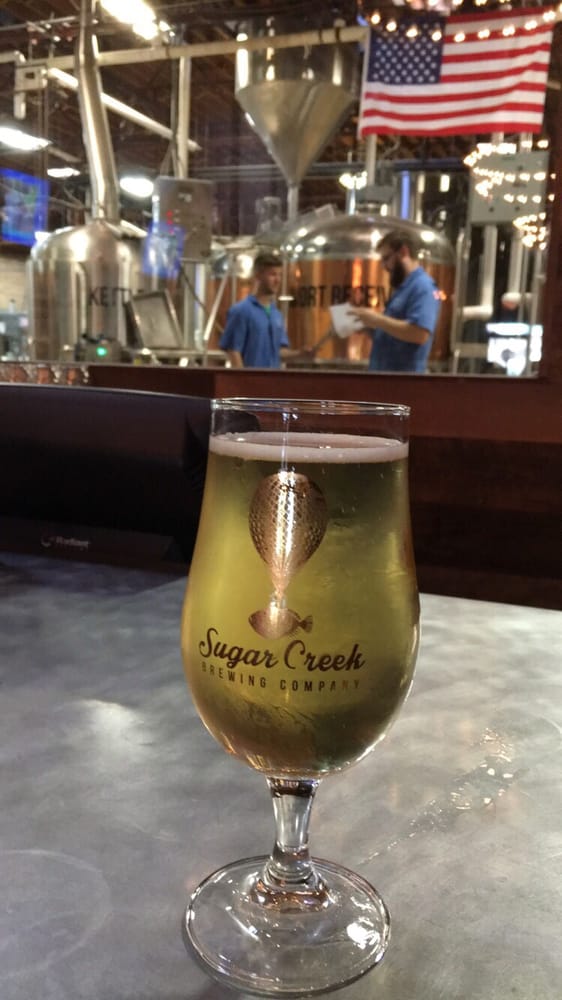 SUGAR CREEK BREWERY COMPANY
Sugar Creek Brewery offers endless options of the highest quality beer in Charlotte, NC. I'm not much of a beer drinker, I drink cider (which is basically the Moscato of beer) Ugh! I need to educate myself. Luckily, Sugar Creek Brewing offers a small sample of all beers before purchasing. I had the Pear Ginger Cider, loved it! And just my luck!! The Tin Kitchen Food Truck was outside… I had the Best Shrimp Taco! Sugar Creek has events throughout the week, such as trivia, yoga, and more.
Dress Code: CasualPrice range: $$ Moderate