Grilled Salmon | Featuring King of Foods
December 1st, 2019
Follow these easy grilling tips for the best grilled salmon recipe. The seasoning and marinade used in this dish can be purchased from King Of Foods (Links provided below). I hope you enjoy this recipe!
Good For:
Lunch or Dinner
2 Tablespoons of King of Foods Seafood Seasoning | Product Details
King of Foods Country Boy Marinade |

Product Details

Dash of Sea Salt
Olive Oil

2

 

pound

 

side of Salmon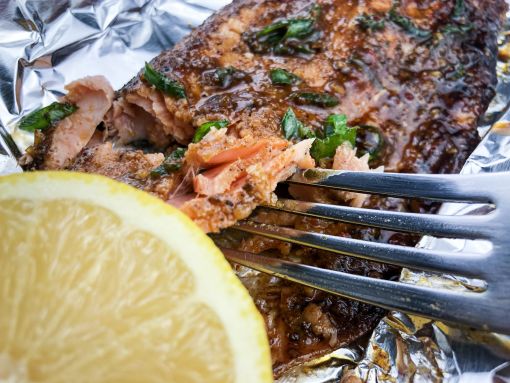 Step by Step Instructions
Step 1
Preheat your grill to medium-high and brush off any food particles from the last time you grilled using a wire brush.
Step 2
Place the salmon fillets on one large sheet of foil (or multiple sheets of foil for easier grilling). Generously coat the flesh side of the salmon fillets with oil and Seafood Seasoning. Wrap in foil to create a foil packet.
Step 3
Place foil packet on the grill and cover the grill. Cook for 10 to 15 minutes, or until salmon is cooked through (or reaches desired done-ness). 
Step 4
Use tongs or a metal spatula to remove foil packet from the grill and set it on a plate or cutting board. Brush Country Boy Marinade over salmon and enjoy!