Crustless Kale & Mushroom Quiche
This Crustless Quiche is like so many of our classic heroes, the easy egg bake of a crustless quiche goes by many names: egg bake, egg casserole, oven omelet. The best part about this dish is you can throw anything you want to throw in it! I hope you enjoy this recipe!
Good For:
Breakfast & Brunch
1 tablespoon extra virgin olive oil

1 cup Chopped Chicken sausage or 

1 pound ground breakfast sausage

6 Eggs
1 cup Heavy Cream
8 ounces Colby cheese, shredded
1 cup fresh baby kale
1 cup of Sliced Mushrooms
4 garlic cloves
Salt & Pepper (To Taste)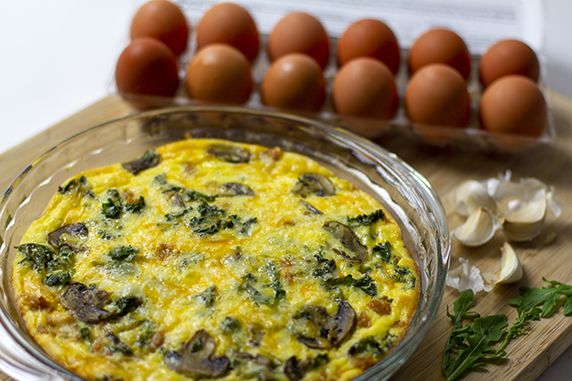 Step by Step Instructions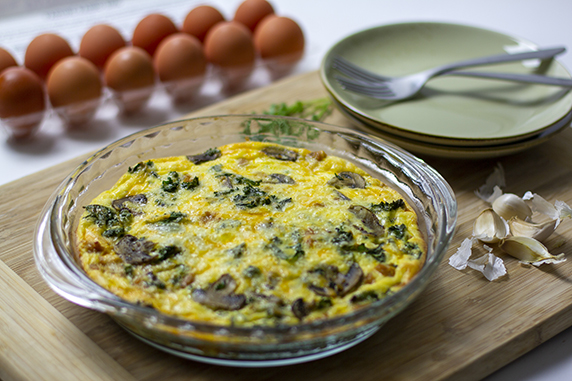 1. Preheat the oven to 350 degrees F. Spray a nine-inch quiche dish with cooking spray and set aside.
2. In a large skillet, heat the olive oil. Then add the garlic and mushrooms. Sauté until the mushrooms are soft. About 4 – 5 minutes.
3. Add in the kale and stir until wilted, about two minutes. Remove from the heat and set aside.
4. Cook sausage over medium-high heat, until cooked through and crumbled. Set aside.
5. In a large bowl whisk together the eggs, heavy cream, salt, pepper, and cheese. Pour the vegetables into the quiche dish. Add the egg mixture over the top.
6. Bake for 40 minutes or until the edges start to pull away from the side of the dish.